Over the years of working on Porsches you develop a relationships with customers and these often evolve into special projects. These projects usually fall into one of two categories; street cars and track cars. Here are a few examples of some of the street projects I have been involved with over the years.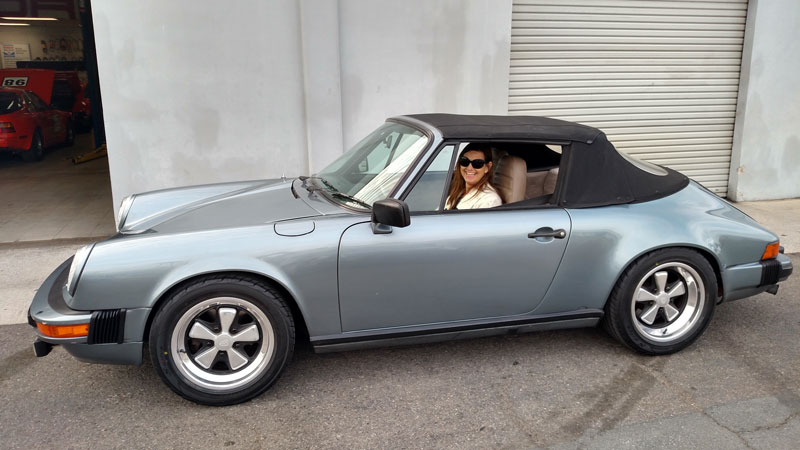 1983 911SC Cabriolet – The first 911 Convertible
Do you want a special Porsche? Then buy an example that is the first, the last or the most limited version! This model is the very first 911 to ever be factory equipped with a convertible top! (First) It is the last production year for the venerable 3.0L 911SC (Last)… They only made 1719 of these cars out of nearly 10,000 in 1983 and out of 60,000 total production run! (Limited version) And lastly, buy the car from a lifelong 911 Porsche technician!
Read more
That's right, the best part of this car is that it was my personal car for almost 20 years! (Best to me at least). Then after almost 3 years of begging and pleading with me to sell the car, my customers 360,000-mile Carrera Targa went on life support. I knew she would take care of it, and I would still get to see and drive the car at service intervals, and I did have my eye on a pretty sweet 993S! So, off my car went with Pamela in the driver's seat with the biggest smile ever! (See, that's her below taking possession).
So, what do you get from buying our Mechanics 911? Pull up a chair and let me tell you a story… I bought this car with about 160,000 miles on it from my customer the original owner. Dan was his name, and he didn't take great care of this poor car. The paint was shiny but that was about it! A chain tensioner had failed, and he kept driving it until the cam chain sawed through the chain box leaving a trail of smoke and oil behind the car! It should have destroyed itself, but it didn't because it knew it had a second chance at a new life if it could just make it into the shop.
I bought the car and fixed the chain tensioners and chain box and kept driving it for a year or two as I saved my pennies. With the car paid off and a stash of overhaul cash the work started over better than a year of time. Complete engine, transmission, suspension, and brake overhaul. Then new windshield, interior, polished wheels, and new tires. It was pretty sweet let me tell you, especially since it was completed exactly on my 40th birthday for my 40th birthday drive with my Porsche cronies! But this project was not just any run of the mill stock 911SC…
The stock and smog legal 3.0L engine was balanced and blueprinted, case and barrels were cut for windage and everything to gain a morsel of power was done. The CIS fuel injection was modified with an early WUR for vacuum controlled fuel enrichment and ignition was handled by MSD and a custom curved distributor. Exhaust exited the vehicle out stock heat exchangers and catalytic converter with a custom factory dual outlet sport muffler. (Sounds so good!) When all was said and done this car put down 190RWHP and huge torque walking away from everyday 3.2L Carreras. But the car goes around corners too! 22/28mm torsion bars and Bilstein HD shocks keep it flat and stuck to the road with 930 tie rods and bump steer kit. Lowered, corner balanced and aligned for fun driving to work or headed to the mountains!
I sure do miss that car…
Cream puff 1982 911SC
I have probably a dozen customers that have been with me for the duration since 1985; this car belongs to one of them. This car is truly a joy to behold in the level of care and preservation it has received over the decades. This is the second 911 I have cared for, in a string of Porsches for this customer; this one being acquired in the mid 90's replacing a totaled 74-911 coupe. Whatever the car needed, bit by bit it received along with a lot of love and caring. You can't stop and get out of this car without someone wanting to tell you how beautiful it is or about the 911 they had, that was just like it! Yes, it runs and perfectly in every way. Yes, it is always garaged and yes, it is driven at least weekly although it was driven daily for decades.
Read more
This almost completely stock Chiffon over brown 911SC has just a few little tweaks to give it its own personality. The stock rebuilt 3.0L motor and 915 transmission work flawlessly and have the normal array of mechanical upgrades you would expect. The engine is kept cool in So. Cal summers by a Torbutrol fender mounted oil cooler even with the excellent upgraded A/C on full! The car is lowered, corner balanced and has a sport alignment for some fun drives on the polished 7&8×16 Fuchs wheels and Michelin rubber.
Take a look at my IG reel below of this car and see if you can find what's not quite stock about the exterior? 
https://www.instagram.com/p/CUMBE4hJTEo/
Done with your walk around? Well, you probably noticed the protruding 911SC fog lights have been replaced with a Carrera valance and lights. After hitting enough parking curbs, the owner was done straightening and replacing the stock fog lights and found the solution in the Carrera valance.
Wanting a smoother and cleaner look all the undercoating was removed from the front and rear valances and the side rocker panels; see it now? This single change gives the car a very subtle and much smoother, cleaner look overall that is hard to pinpoint, a really nice touch though.
Always a pleasure to service because I get to take her for one more drive…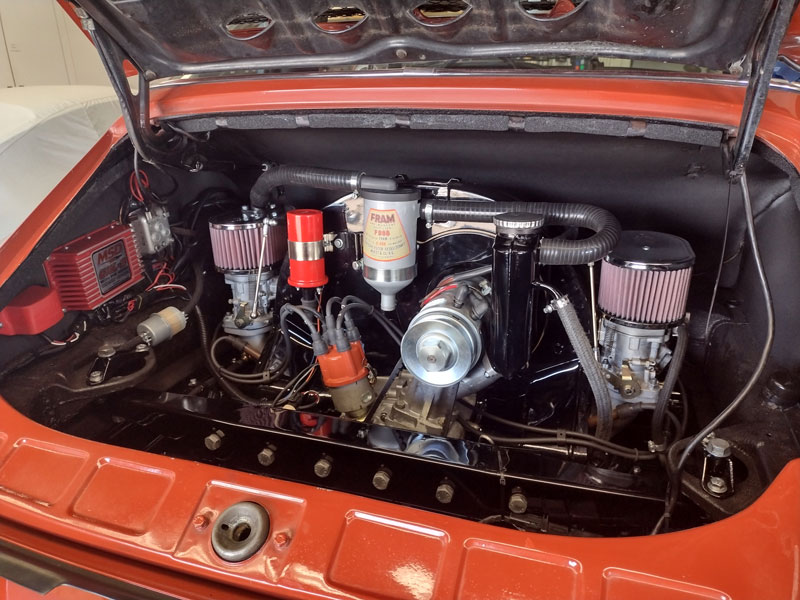 1968 Porsche 912 "Sport"
I have probably a dozen customers that have been with me for the duration since 1985; this car belongs to one of them. As a matter of fact this car pre-dates my Porsche journey by several years but was serviced at the shop where I started. Kent bought this car new and has taken excellent care of this car along the way and isn't afraid to drive it like it has 6 cylinders instead of just 4! I have even seen Ken embarrass a few late model 6-cyl Porsches on PCA tours through the twisty stuff to the amusement of many.
Read more
The engine had been rebuilt before in the late 80's early 90's but it was really showing its age as of late. Valves were losing adjustment; cam lobes were getting shorter and there were head cracks that needed attention. So, I put Kents 912 on my schedule and when that day finally arrived, we had to have a sit-down chat. These engines are very old, and the technology was 20 years old when it was built! But the good news is technology has marched forward and we can bring this engine into the 21st century!
This project was smack dab in the middle of Covid supply chain disasters and shops and suppliers closing down with sick staff and the lot. But we made it and it was only double my estimated timeline and considering the situation and the results I was good with that!
So, let's take a look at the heart of this little 912. When I build 356/912 engine there is only one place I go for the machining and that is Competition Engineering in Lake Isabella Ca. They are located about 40 miles northeast of Bakersfield and Walt and Greg are the guys who know it all! I tell you this because the motor spec I build for all of these cars I stole from these guys. It's the best running zero issue street motor ever running a Norris high torque cam 1720cc big bore kit and some custom head work. Top that off with 40mm Weber IDF's and port matched manifolds with K&N air filters like a cherry on top.  And let's not forget the electronic fired MSD ignition. That makes about the best running 356/912 motor ever, but the real magic is making it last, and that is the job of the new oiling system.
You see these motors have a "Partial flow" oil filter system which means there is a filter that is fed oil through a hole a toothpick could plug and the rest of the oil is unfiltered. This filter is located in the silver housing upright in the middle of the engine. So, what this means is dirty oil gets circulated over and over again causing untold friction damage to all the lubricated parts! This is where a company called Precision Matters come in. They make a beautiful full flow oil filtration system that attaches to the oil pump cover after moderate timing cover machining. The end result is a spectacular solution to the oil filtering problem, and they also make a host of other cool stuff like the aluminum sump plate (Both pictured below). Now every drop of oil is filtered before being fed to each internally lubricated engine part dramatically increasing engine life.
With the oil supply problem taken care of we can concentrate on the crankcase breathing and oil vapor management issue. As engines grow in displacement and output, they need better engine breathing. These engines have increased from 1100 to 1720cc in displacement and tripped their power output but not their crankcase ventilation. So, I have come up with an update for these engines that is quite simple. There is only a single 12mm breather on the right cylinder head, so I add another 12mm breather to the left cylinder head and run a line to the back of the oil filler tower. (Only the right breather hose can be seen in the finished engine picture below). Now there are two 12mm breathers one from each cylinder head going to the oil filler tower doubling the cylinder head breathing. Then since I removed the oil filter housing, I have room to install a custom 930 Turbo oil separator and custom breather hoses to the left carburetor air cleaner. This housing is normally black, so I remove the mounting tabs, change the fitting angle and paint the oil separator oil canister silver to replicate the original oil canister housing.
Normally the oil filler tower has a 6-inch hose that dumps right into the right carburetor usually making a mess and clogging up air correction jets, but this new set up solves that problem. Because the new hose closer to 36" long and goes up hill and through a chambered separator there is virtually no oil or moisture vapor entering the left carburetor. The interesting side no to this is on other cars that have far more road miles on them I find at oil service time when I drain the separator it is 80% filled with water, not oil at all. The moisture that doesn't get burnt off in these cars is very bad for the cars and often makes a milkshake looking foam under the cap. That is completely eliminated with this system.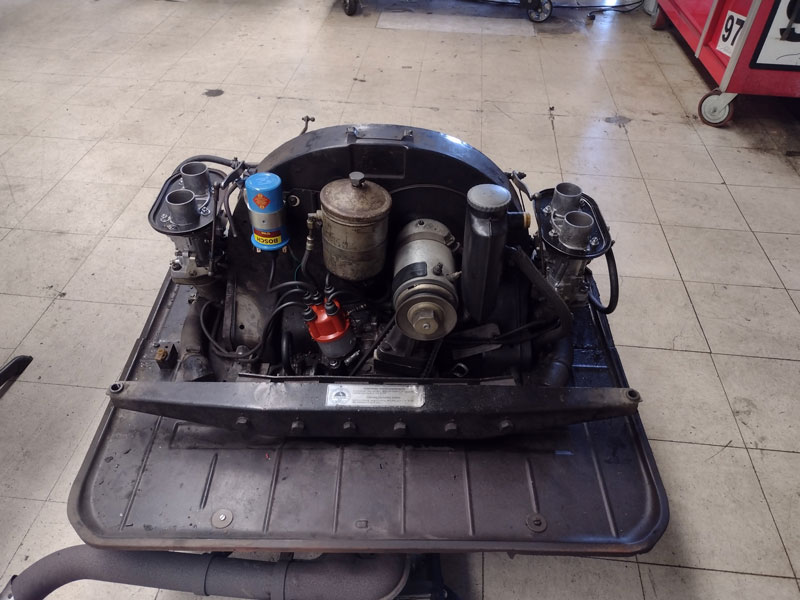 The 993 that was just meant to be…
When you are a young struggling Porsche technician and just managed to scrape together enough money to buy a beat up old '83 911SC Cab a 1997 993S is not even worth dreaming about! (Can you find that 911SC Cab here?) That was me back in 2000 when this car rolled of a transporter from Indiana. Some close friends of mine with kids aged similarly to mine found this car and decided they needed to have it. Being a doctor and a lawyer, their incomes were slightly higher than mine at the time so it was reasonable. 
Read more
I took care of this car exclusively until late 2016 when the owner decided she just wasn't using this car anymore as it didn't fit her teenager/dog hybrid lifestyle anymore. I told here a might know of a worthy caretaker for the car with a Cheshire cat like grin on my face and as the new year arrived the car had a new owner. As someone with lots of modified and project cars it is nice to have a nice stock, runs perfectly all the time 911. And it was quite a luxury upgrade from my long time 911SC that I had been driving all this time just waiting for this day to come!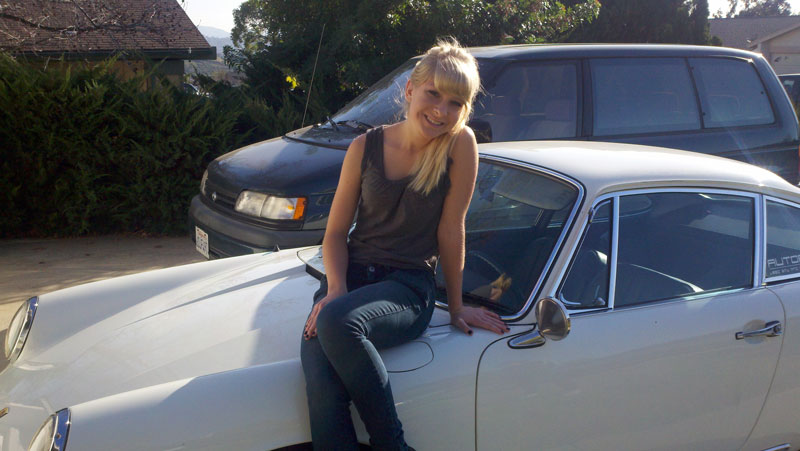 1968 912 – A Gift of a Lifetime
This beautiful 1968 912 actually belonged to me several years ago. The customer bought the car new and took delivery in Florence, Italy after being discharged from the Navy after 22 years of service.
Read more
He came back to San Diego where the car was serviced at Dieter's where I started out. The car went through several technicians and then I took over care of the car for the last 10-12 years. Ed was a really wonderful mild mannered gentleman who usually wore a tweed coat and a Donegal tweed cap! How 60's sportscar proper!
He was getting quite on in age and I promised the original owner of the shop Dieter that I would always take care of Ed so I kept he car running at minimal expense. Well one day we got a call at the shop that Ed had passed away quietly in his sleep and in his will he had left the car to the last three technicians who cared for it. The other two mechanics were not in a position to restore such a car so I bought out their percentages of the car and started bringing her back to her previous glory.
When I later sold the car to pay for a little silver #1 car over in the Motorsports section my daughter pictured below was not to keen on me selling her car! This car holds very fond memories of the little old man who wanted me to have it, the daughters who I enjoyed spending time with me in the car and the good friend I eventually sold the car to. All in all, a happy ending!