From Mark R. — 911SC "Silver Bullet"
I may be a little biased, but Steve built my race car, is the only one who works on my race car, and that car is awesome. Results speak volumes. The problems I've had at the track (operator error) have been repaired so I could continue my race weekend competitively. I could go on and on about the great work he has done on both of my race cars. He's the best I've met at diagnostics and repair and really knows how to track down issues and come up with innovative ways to repair or improve older Porsches. Look for the original 1979 911SG (#1 Silver Bullet) at an event near you.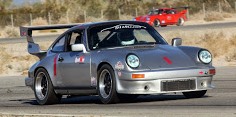 From Jad D. — 996 "Not a Cup Car"
Steve has been working on my cars for almost two decades! Before that I had tried numerous shops and none could come close to his knowledge and value. He really knows what needs to be fixed NOW, what can wait, when to go OEM and when aftermarket can save a small fortune. His "at the track" support is priceless. Take a look at who is around Steve's tent at the track, then look at the top times and top BRI, virtually all the top cars use 911SG!
From Dr. Dan C. 911SC "Sweet Street SC" 
When it comes to pure driving pleasure, an air cooled 911 is very hard to beat. And when it comes to tuning and maximizing that pleasure, Stevie G cannot be beat. Whether it's a track beast or an original street ride, 911SG will dial it in. There are other testimonials here from highly modified track rockets, but I want to thank Herr Grosekemper for helping me sweeten the ride of this stock 911, without sacrificing the originality of the car. Thanks!!
Cathy Y. and "Stella"
Steve is the man. He knows older Porsche's inside and out. I trust him with my life, literally. He ensures my street car is up to spec and ready to go for my Time Trails. My husband does not drive or accompany me to events. His only request is that I go to events that Steve is going to and be part of his caravan. That way he knows if anything happens Steve is there to help. Like the time I blew a clutch at Button Willow Raceway and Steve and Greg Phillips put my car on their trailer while Greg drove their track car home with no heat and no radio in the dead of winter. Steve is also very fair and honorable. He always gives me options on how to fix the car and how much it will cost trying to be as economical as possible while still being realistic. I was lucky enough to meet Steve when I bought the car. I can't imagine owning a Porsche without him being there to support it.
Submit you 911SG Testimonial